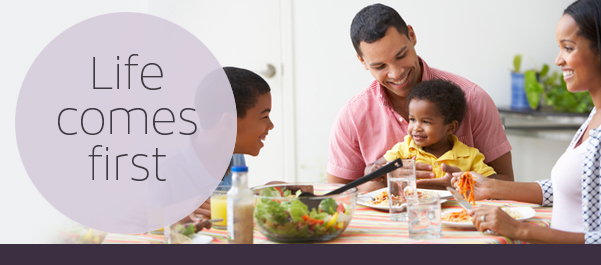 "My kids have no memories of me at dinner – I never made it home before dinner."
My sister was sharing this quip from a male colleague of hers, and it really struck me – though perhaps not for the reason you'd think. I know plenty of men who are choosing to let presence, not absence, define their family lives. 
One such man is Ivan Madera, my business partner at Morf3D. Ivan is 10 years my junior, and he's a perfect example of the new generation of men who are seeking a healthier work/life balance. I applaud any professionals willing to resist the pressure for things to look a certain way, and take actions to make life best for them and their families. Ivan's put the concept of "coming and going" into practice in his real life.
I asked Ivan to write today's post to explain first-hand why, for him, "life comes first."
Michelle
---
I have a good mentor who recently shared with me that his only regret in life was not being present. While he focused his life span on building wealth, he felt he'd neglected the only thing money cannot buy: A life spent with the ones you love.
I was raised by a single mother – the absence of a father was natural to me. But my friend started me wondering…did that mean it should be the same for my own family?
My wife and I have three girls at home, all ages 5 and under. And we'd developed a rhythm – she was the stay-at-home mother, while I was taking risks and advancing my career so that my family would want for nothing. But the career I chose came at a cost: I would need to travel 75% of the time.
I often thought I was doing the right thing even if it caused me to be absent. And my wife was on board without hesitation. "Honey, I have your back," she'd say. "If it makes you happy, then I'll be happy."
I am very fortunate to have the support that I do. I am lucky that my wife was so committed to our family (trust me, if you spend all day with three children under five, you are absolutely committed!). But at one point, I began to wonder – what about me?
How committed was I? How supportive was I?
I was advancing my career and traveling across the country. My wife had put her career on hold. Seemingly out of nowhere, she was living in a foreign place as a stay-at-home mom.
And she's damn good at it! I'll be the first to admit – I'm not even capable of such motherly feats. But while my wife was doing a fantastic job, I certainly did not feel as committed or as supportive as I should be. I thought to myself, what can I do so she can have some free time?
Something had to change.
Earlier this year, I went on a quest to free myself up from the rat race. I wanted to focus on supporting my wife's motivations and aspirations – and I knew that that would take some changes to my life. I wanted more "coming and going." So far, my family was just experiencing my "going."
I've been fortunate enough to have made positive gains through out the year, whereby I'll be able to take the better part of next year off. In fact, my journey as a "full-time" dad and life partner just began in early September! And I don't regret one minute of it.
My family and friends all think I'm nuts. How can you support your family by not working?
But I thought just the opposite: How can I keep my family and wife happy if I'm always at work?  I tell them it's my turn to stay home and support my wife with her goals and aspirations.
This year is about being present and living life without regret. This year, life comes first. 
Ivan Madera